ABOUT
nxtlm
2022-05-06T16:18:23-04:00
ABOUT
RICHARD'S PAINT
For over 65 years, it has been our mission to serve our customers with the care and craftsmanship that is uniquely offered by a family-run business – The Richard's family. In 1954 Ed Richard, Sr., a painting contractor at the time, built his first batch of paint. Offering this new product to other painters, he walked and talked with them as he learned what they wanted most from the coatings they used. Thus began the journey and legacy of Richard's Paint Manufacturing. With offices, manufacturing and warehouse facilities in Rockledge, FL, the Space Coast is our home. We have grown from modest beginnings to now serving customers in residential, institutional, commercial and industrial markets with hundreds of products for virtually every surface that needs to be decorated and protected.
Richard's Paint products are sold in the United States, Bahamas and Caribbean Islands, as well as Central America and overseas. Our products can be found in paint and decorating stores, hardware and lumber retailers and other home improvement outlets. We are producing some of the world's best products, verified and proven in third party independent lab testing compared to other national and global manufacturers. Better products. Better results. Richard's Paint continues to have the heart and attitude of a smaller, more nimble company. Custom work is part of what we do every day. From custom formulation to small batch manufacturing, we do the things larger paint companies simply are not willing to do.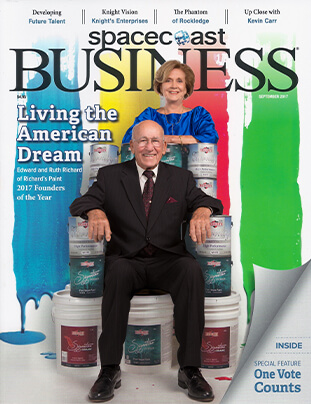 The rich history of Richard's Paint now includes three generations of family. Eric Richard, President, and Eddie Richard, Jr., VP Operations, both worked their way up through the company doing every job there was. Eric's son, Justin Richard, continues to carry on the family's passion of caring for customers, one at a time. We think of our employees and customers as an extension of our family. It's a big family, and we celebrate each other's lives. While Richard's Paint has continued to grow through the years, we most value connection with our community, family and friends.